Scuba Discovery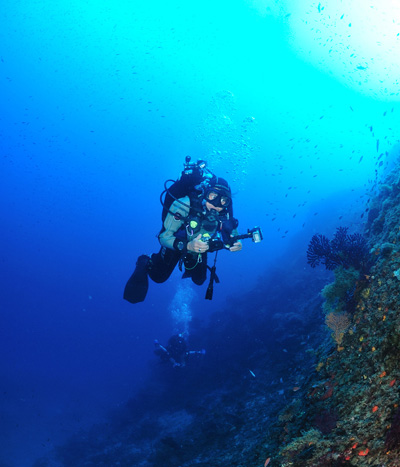 This introductory course is also called Scuba Discovery and one can do one's very first real underwater dive before completing it. This introductory experience allows one to understand what an underwater dive entails and to feel what it's like to breathe through a regulator while submerged.
The course involves a brief theory presentation of the fundamental rules and concepts of underwater diving. Subsequently, the neo scubadiver will learn to use the supplied equipment in fairly shallow water and in this way, make their first exploratory journey in the underwater environment.
The Scuba Discovery experience can be carried out in the pool, in a protected along the coast or in the open sea; 12 metres is the maximum depth which can be reached (in this case, the Introductory Couse to Scuba diving may be used as a credit towards the Open Water Diver course). There is a minimum age requirement of 10 years old if one wishes to enroll in the Discovery Scuba Diving Course.