Dolphin Man
Free diving: the art of holding one's breath. It may sound strange but breath holding is not as unnatural as one might think. We are born in water and perhaps it it is more unnatural to to live out of the water as land animals. free diving is a real skill, though many are nervous about it, forgetting that the "underwater reflex" is an inborn capacity in all marine and land mammals.
Reawaken your "reflex" by attending Free Diving Course CMAS / NADD with its three levels which will supply you with the means to bring your free diving skills back to life.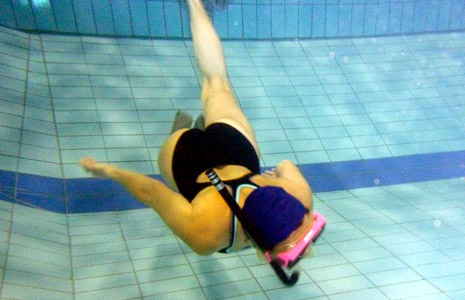 For Free Diving 1st Level you will discover the pleasure of diving in safety while improving your ability in water and your fitness. You will also learn the principal techniques for relaxation and breathing so as to obtain balance between body and mind and be able to start your descent below water.
Free Diving 2nd Level: if you have already done free diving and you want to improve your techniques, this is the course for you! You will learn how to safely increase the depth of of your dives and to stay longer below water, perfecting your flutter kick and coordinating concentration, breathing and relaxation.
Free Diving 3rd Level is only for those who, already being expert, would like to improve their techniques. You will learn training techniques and how to develop your inborn potential, thus reaching a knowledge and preparative level which will allow you to explore the marine world more fully.
Naturally, if you are new to all this, you can approach the world of free diving through an introductory course .
Snorkeling: this is the starting point for anyone who wishes to take the long underwater trail. This course teaches one to observe the underwater environment in a simple and enjoyable way from behind a dive mask with fins and a snorkel in total safety.
Basic Free Diving: Does free diving attract you? Would you like to begin? Enroll now in the basic free diving course where you will learn the fundamental skills needed to go underwater. This is the first step towards the incredible world of free diving. You will be supplied with the knowledge and basic techniques needed to practice underwater free diving in the marine environment.